Thursday and Friday, February 28-March 1, 2019
The Westin Book Cadillac Detroit
1114 Washington Boulevard, Detroit, Michigan 48226
Be sure to join your fellow dealers, suppliers, and other associates of MBSA as we gather for networking, socializing, and education / professional development, all in the surroundings of one of the most vibrant conference cities in the Midwest.  Located right downtown, the elegant and historical Book Cadillac Hotel brings the finest hospitality, where you'll get to enjoy the company and camaraderie of the great members of the building materials industry in Indiana and Michigan.
---
Here's a brief overview of the Summit (greater detail will be added as we get closer to the event):
THURSDAY, FEBRUARY 28
4:00 PM – Opening Welcome and Keynote Address
5:00 PM – Product Knowledge Demonstrations – Think of this as "speed dating" with our supplier, manufacturer, and distributor members.  Each will get 5 minutes or so to feature a new or improved product or service their company offers in a fun and interactive environment.
6:00 PM – Networking and Opening Reception – enjoy getting to know your fellow members at an elegant reception with refreshments and hors d'oeuvres in the elegance of the Book Cadillac.
FRIDAY, MARCH 1
9:00 AM – Continental Breakfast
"Deep Dive" Sessions – These 45-minute sessions are critical issues that keep your business protected from liability and helps ensure compliance with government regulations, or promote best practices in various aspects of our businesses. They're called "deep dive" sessions because in a short period of time, these important issues are fully explored, equipping you to run your business with new knowledge, and the confidence that comes with it.
9:30 AM – 10:15 AM – "Deep Dive" Session 1
10:30 AM – 11:15 AM – "Deep Dive" Session 2
Networking and Refreshment Break
11:30 AM – "Deep Dive " Session 3
12:30 PM – Lunch and Annual Meeting of the Association – The charter of MBSA requires the members to gather at least annually to receive reports that are important to the members; to elect/affirm the Board of Directors, and to set the date and location of the 2020 annual meeting.  Please join us to personally assist in shaping the future of MBSA!
Registration fee is $150.00 per attendee, and includes Keynote presentation on Thursday, opening reception, Friday breakfast and lunch, Deep Dive sessions, and breaks/snacks.
Registration and Sponsorship Form
---
SPONSORSHIP OPPORTUNITIES
Thank you for considering sponsorship of the Member Summit and Annual Meeting. Your support allows us to keep fees low, while showing your fellow members that you value your industry and its events.
Please indicate what aspects of the event you wish to sponsor. All sponsorships include registration fee for one representative of your company. Additional attendees from your company are $99.00.
Continental Breakfast on Friday, February 16 – $ 350.00
"Deep Dive" session – $ 300.00 (3 available)
Association luncheon – $ 500.00
Break / Refreshment service – $ 350.00
Registration and Sponsorship Form
---
To reserve an overnight room at the Westin Book Cadillac Hotel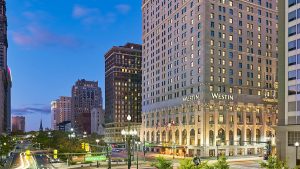 Online Reservations
Or if you prefer to reserve by phone:
Reservations Toll Free: 1 888-627-7150

Reservations Local Phone: 313-442-1600
Be sure to mention Midwest Building Suppliers Association to receive the group rate of $ 179.00 per night, which is extendable 2 days prior to and 2 days after the meeting. 
Overnight MBSA guests will receive a reduced valet parking rate of $ 25.00 per day.
Please make your overnight room reservations PRIOR TO FEBRUARY 7, 2019.