Thursday and Friday, February 28-March 1, 2019
The Westin Book Cadillac Detroit
1114 Washington Boulevard, Detroit, Michigan 48226
Be sure to join your fellow dealers, suppliers, and other associates of MBSA as we gather for networking, socializing, and education / professional development, all in the surroundings of one of the most vibrant conference cities in the Midwest.  Located right downtown, the elegant and historical Book Cadillac Hotel brings the finest hospitality, where you'll get to enjoy the company and camaraderie of the great members of the building materials industry in Indiana and Michigan.
---
Here's a brief overview of the Summit:
THURSDAY, FEBRUARY 28
5:00 PM – Opening Welcome and Keynote Address
Nine for '19: What Matters Most for Dealers in the Near Future
Craig Webb of Webb Analytics
Rely on Craig Webb, ProSales' former editor and now the head of Webb Analytics, to lay out the nine trends, threats, and opportunities that his coast-to-coast research shows will matter most for MBSA members in 2019 and 2020. Get a quick, concise, customized roundup of key issues—some pressing, some just emerging—that will merit your attention.
Craig Webb formed Webb Analytics in September 2018 after spending a dozen years as editor-in-chief of ProSales, where he won numerous national writing and editing awards, visited dealers in 49 states, and won renown for his speeches to groups across the U.S. as well as Japan and Canada. In addition, from 2013 to 2018, Webb also served as editor-in-chief of Remodeling, a premier publication for professional remodelers across the U.S. best known for its annual Cost vs. Value report.
6:00 PM – Product Knowledge Demonstrations – Think of this as "speed dating" with our supplier, manufacturer, and distributor members.  Each will get 5 minutes or so to feature a new or improved product or service their company offers in a fun and interactive environment. Click here to sign up for your 5-minute slot!
6:30 PM – Networking and Opening Reception – enjoy getting to know your fellow members at an elegant reception with refreshments and hors d'oeuvres in the elegance of the Book Cadillac.
FRIDAY, MARCH 1
9:00 AM – Continental Breakfast
"Deep Dive" Sessions – These 45-minute sessions are critical issues that keep your business protected from liability and helps ensure compliance with government regulations, or promote best practices in various aspects of our businesses. They're called "deep dive" sessions because in a short period of time, these important issues are fully explored, equipping you to run your business with new knowledge, and the confidence that comes with it.

9:45 AM – 10:30 AM – "Deep Dive" Session 1
Industry update: What you need to know as you plan for 2019 growth
The predictions are all over the place.  Building is up?  Building is down?  What's going on in my service area?  How are national trends and issues affecting this likely growth scenario?  What's happening locally and in my state that I need to know about?  What's happening elsewhere that will eventually come here?
We all have these questions.  Jim Robisch has answers.
Jim Robisch of The Farnsworth Group has specialized in giving retailers the advantage of custom research for 35 years. His expertise spans national, regional and independent retail, wholesale and distribution channels.
10:45 AM – 11:30 AM – "Deep Dive" Session 2
Modernizing the Annual Performance Review: From Performance Manager to Talent Success!
Jacop Lucas, Director of Human Capital, HRD Advisory Group
Performance management as an organizational function has never been more important, and the success of your company is dependent on your ability to navigate and lead change in this practice area effectively. The annual performance review has been under fire the last few years as an outdated, meaningless process. Businesses continue to evolve, and the workplace becomes increasingly complex. How you approach managing performance must evolve to fit the needs of today's workforce and work demands.
As the Director of Human Capital, Jacop (Jake) uses a consultative approach to help clients discover what they really need. He then puts his industry knowledge to work to recommend the processes and systems that will best meet those needs.
Networking and Refreshment Break
11:45 AM – 12:30 PM – "Deep Dive " Session 3
12:30 PM – Lunch and Annual Meeting of the Association – The charter of MBSA requires the members to gather at least annually to receive reports that are important to the members; to elect/affirm the Board of Directors, and to set the date and location of the 2020 annual meeting.  Please join us to personally assist in shaping the future of MBSA!
Registration fee is $150.00 per attendee, and includes Keynote presentation on Thursday, opening reception, Friday breakfast and lunch, Deep Dive sessions, and breaks/snacks.
Registration and Sponsorship Form
---
SPONSORSHIP OPPORTUNITIES
Thank you for considering sponsorship of the Member Summit and Annual Meeting. Your support allows us to keep fees low, while showing your fellow members that you value your industry and its events.
Please indicate what aspects of the event you wish to sponsor. All sponsorships include registration fee for one representative of your company. Additional attendees from your company are $99.00.
Continental Breakfast on Friday, March 1 – $ 350.00
"Deep Dive" session – $ 300.00 (3 available)
Association luncheon – $ 500.00
Break / Refreshment service – $ 350.00
Sponsors also receive the following recognition:
Signage in the room/area where your sponsored event occurs;
Listing on master sponsor sign at registration area and opening reception;
Name badge ribbon indicating your status as a sponsor;
Introduction at the Opening Reception
Registration and Sponsorship Form
---
To reserve an overnight room at the Westin Book Cadillac Hotel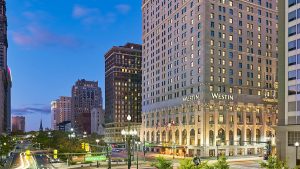 Online Reservations
Or if you prefer to reserve by phone:
Reservations Toll Free: 1 888-627-7150

Reservations Local Phone: 313-442-1600
Be sure to mention Midwest Building Suppliers Association to receive the group rate of $ 179.00 per night, which is extendable 2 days prior to and 2 days after the meeting. 
Overnight MBSA guests will receive a reduced valet parking rate of $ 25.00 per day.
Please make your overnight room reservations PRIOR TO FEBRUARY 14, 2019.