Your job is to sell product and make money.  Let us handle your DOT compliance, and remove that burden from your desk.
Managing Department of Transportation (DOT) requirements can be a tremendous undertaking; and can even be quite scary, especially when fines for minor violations can exceed $20,000. As a building materials professional, you have better ways to use your time than to constantly monitor and wonder if you are going to survive the next DOT audit.
That's why MBSA provides a DOT compliance program that addresses your compliance needs, regardless of the size and scope of your operation. And, with pricing at member-only discounted rates, your participation in this program will take a mandated requirement and make it an efficient, seamless experience for you. No more guessing if you're actually compliant. That peace-of-mind itself is worth your participation.
Features of this improved program include:
No "access" or "registration" fees. Your MBSA dues payment is your access.
Driver Qualification Files (DQFs) available to you 24/7 via secure web access.
Drug and other testing results quickly and sent electronically
Pricing that makes your MBSA membership a critical asset to your business
Program administered by ITI, the leading compliance firm in the nation
---
BUNDLE PACKAGES
COMPREHENSIVE COMPANY COMPLIANCE PACKAGE – This package is $161.00 per company, per year, and includes:
Drug & Alcohol Policy Binder – A complete DOT required Drug and Alcohol policy, Driver educational materials, plus "SAP" (Substance Abuse Professional) information and hotline, great for EAP programs as well;  plus all post-accident policy and regulations with crash report included, and all the other DOT rules on reasonable suspicion. This also includes your "Certificate of Enrollment" in a DOT certified drug & alcohol testing program.
Drug & Alcohol Results Binder – A complete record keeping binder for all of your DOT drug & alcohol testing results, Random selections, Certification of Enrollment, Participants List, MIS reports, Bi-Annual Statistics, Pre-employment test results, and any positive drug test results as well as follow ups and return to duty testing.
COMPREHENSIVE DRIVER COMPLIANCE PACKAGE – This package is $151.00 per driver per year, and includes:
All required random alcohol and drug testing (quarterly draws)
Driver Qualification Files* (DQFs) – Includes DOT compliant driver file and MVR (motor vehicle record), with annual review
Ours is a complete administrative program for DQF's from hire to termination.  Services includes use of secure online portal to process:
Review and update current DQF's
Supply all necessary and required forms
Process and complete new employee files immediately
Review physicals; notify company of driver expirations – 90/60/30 days prior to
Review drivers' licenses and notify company of driver expirations-90/60/30 days prior to renewal date.
Process annual MVR and update file with Annual review
Advise employer of compliance issues that arise with any driver    
Keep employer advised of all DOT changes affecting CDL drivers
*All commercial drivers must have a Drivers Qualification File (DQF), separate from personnel records. Commercial drivers are those drivers capable of driving any vehicle in excess of 10,000 pounds gross vehicle weight. DQF contains all required driver safety information as mandated by FMCSR Part 391. Lack of Driver Qualification Files carries a civil penalty under existing regulations. Under section 521 of the federal code, any person or company who is determined to have committed an act which is in violation of the Federal Motor Carrier Safety Act, may be assessed a civil penalty not to exceed $1,000 per offense.
---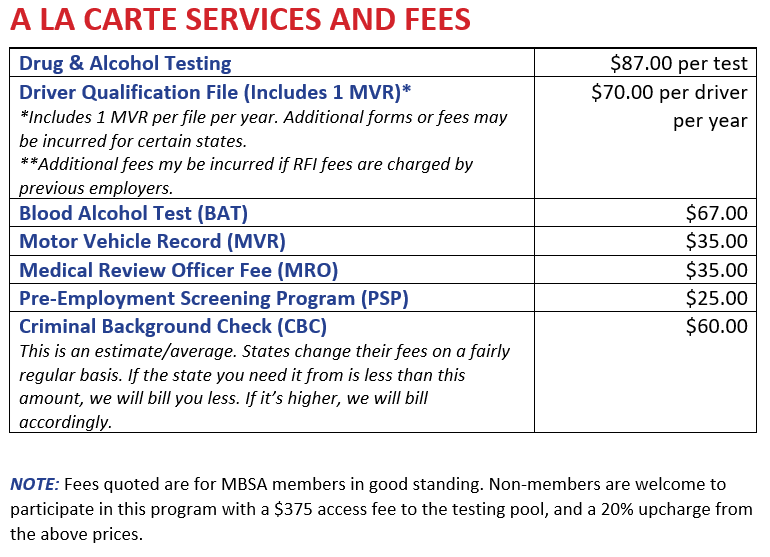 CURRENT PARTICIPANTS: Add / Drop Drivers.