The Midwest Building Suppliers Association Retirement Plan is a special type of 401(k) plan called a Multiple Employer Plan (MEP). Rather than sponsoring your own plan, you can become an adopting employer of ours! And as part of our super-sized plan, you'll get all of the benefits typically enjoyed by only the largest companies, with a lot less work.
Your new 401(k) program is ideal if you don't have one yet in place, and even if you already do.  We can take many onerous administrative and government-regulated tasks off your desk to give you a helping hand.  Click here to check out some of the features.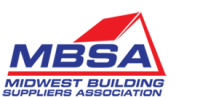 Click our logo to learn more!